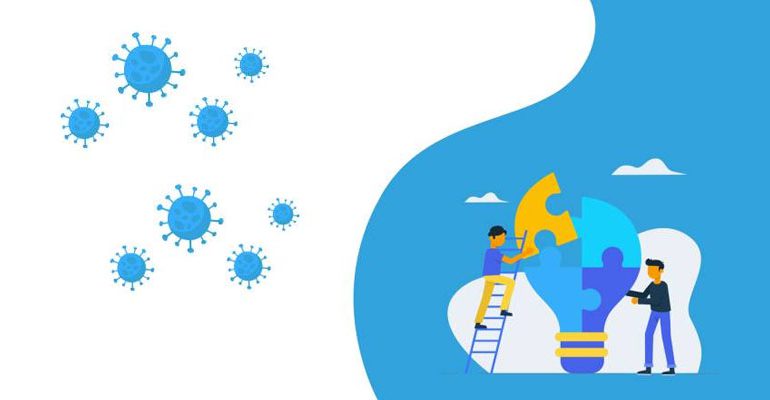 Coronavirus has changed the entire way of looking at our lives since December 2019. We reached the stage where only social distancing can save people affected by this dreadful disease. But how social distancing has created an impact and loss for all businesses is immeasurable. We have many types of businesses serving the needs of millions of public and employees, which stopped functioning due to the effect of lockdown. The Covid19 disease has brought down the GDP of the country that has been impacting wholesale and retail business, tourism, and every business to the core.
Except for the essential needs, no industry can run their business during this lockdown period. Though everyone supports this lockdown period because of the coronavirus, its impact on small and large scale businesses is not least as we think.
How COVID -19 is affecting all industries and hampering the work structure around the globe?
As COVID19 has hit the entire world, imports and exports of goods and services have been stopped. Even multi-national companies have not been functioning for the past one month and new projects or businesses have been stopped. Also, the existing business relationships have been highly affected due to the COVID-19 outbreak.
We all are fighting for one cause, and so, we must find reliable and possible solutions that make us feel safe from the COVID19.
How different industry verticals are ensuring business continuity in the times of coronavirus?
Industries are huge and serve multiple and unique purposes. With the coronavirus impact, industries such as automobile, education, pharmaceutical, textile, IT and others except food and beverage have been hit prominently.
Everyday essentials such as vegetables, groceries, fruits, dairy products, etc. have been served to the public either within the specified time period instructed by the government or have taken up online selling. We call this as on-demand selling too. Educational institutions have started online classes throughout the world, as it is one of the major sectors that has been highly affected due to coronavirus.
The rise of remote working
IT and service companies have modulated their working trend by enabling remote working at every level they can. Companies have adopted remote operation so as to beat deadlines.
How are we making "Work from home" work?
When we look at how the work from home option works out positively, it is simple but it involves vast technology. We develop software that connects your company's work server and your employee's system safely and securely. Understanding the current drop in every business, we publish our software at an affordable price so that everyone gets the privilege of working from home.
As a technically-bound team, we make sure that no service request is unanswered because we consider your work as a priority and work towards it. During this forbidden situation, to make your business effective and overcome the COVID-19 outbreak, we have a strong team that can develop mobile apps within a limited time period.
We also want to keep you aware that the COVID-19 outbreak takes time to come down drastically and sure you will have to choose a digital platform to reach out to your customers and keep your pace up with them.
When we think of us, we also think of you because we all sail in the same boat in the aspect of keeping our business stable. Our work style is customer-centric, and so we aim for betterment in providing service. We are a team of more than 15 specialists in different disciplines; developers, programmers, engineers, coders, consultants and architects who are well-versed working with the latest technologies and agile methodologies required for successful software development. We work on a win-win strategy that benefits both of our companies.
How are we maintaining productivity and efficiency during this pandemic?
Our team is super flexible to work anywhere anytime and that is the best part we have with us. Like how companies such as Amazon, Facebook, Google, and Twitter have enrolled remote work policies to defeat the pandemic situation COVID-19.
A spark lit by them spread across the entire world and many IT companies have allowed their employees to follow the same by implementing work from home policies into their organization. People think it is challenging to work from home but when managed well, it can turn more productivity than any regular day at the office.
We made sure that our employees are provided with all hardware and software facilities required to accomplish their assigned job. This ensures that they achieve high productivity with efficiency. Many of them may not like work extension due to travel time. But at home, they can make themselves comfortable and be more productive.
Our expert IT team has configured wonderful management tools that are handling our work process with high-security measures and streamlining the entire work structure. We are using different project management tools for helping our employees plan and organize projects and track progress.
– For Effective Communication
– For Time Management
– For Code management
– For Project Management

– For Online Meetings & Video Conferencing
How are we vigorously responding to the business challenges?
Irrespective of any physical challenge we have due to this coronavirus, we wanted to make sure that we never compromise in providing high-quality services, on-time delivery with 100% accuracy and client satisfaction.
We have our emergency backup plans to face any Ad Hoc or disaster situation, and thus implement a smooth workflow process for all our employees to run our business successfully.
We provide our dedicated web & mobile app developers as an extended arm, in case of any project development requirement. By hiring our developers, your operational work procedures can be easily streamlined, allowing you to focus on the important tasks on hand. Our developers are working as per the client's time zone, leaving no stone unturned in terms of delivering quality solutions and services on-time.
As a responsible organization, protecting the health of employees and mitigating the risk of spreading the virus is our priority, we are functioning continually to minimize the disruption in productivity and helping in every manner to support our country's economy.
Who We Are? Why Should You Choose Us as Your IT outsourcing partner?
We are a honeycomb of a multi-talented team that is self- and value-driven by nature and ensures customer satisfaction through delivering a product or service that has been specifically designed for you, with top-notch quality.
We think from your shoes and see which technological solution will best suit your business and design strategy accordingly. You will never like to take a back-step after choosing us as your IT outsourcing partner.
Overall, business needs an on-demand app so that they can best facilitate their customers in such uncertain times and restricted mobility. Talk to our Consultants today!