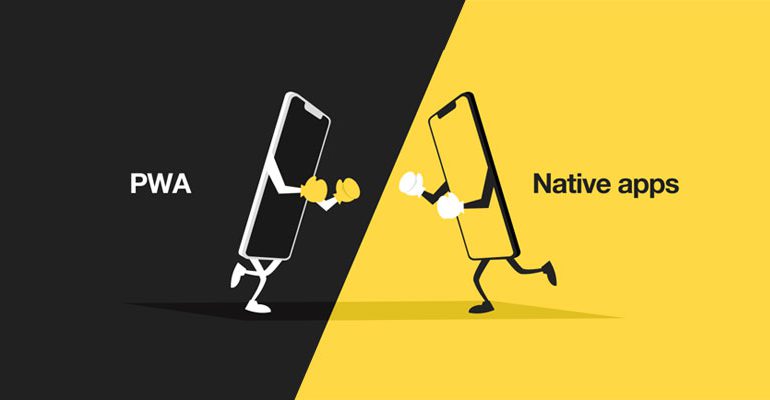 Mobile and native apps are not heard much these days. The reason is mobile apps brings up not so user-friendly experience and native apps are an incredibly costly gamble. Here, a progressive web app (PWA) might take up the attention of app developers and users. The article will explore how PWA development has the potential to replace native app development.
The mobile app has become an essential tool for every business and company. Not only the well-developed application but a model that can deliver a good experience to both the company as well as end-users. Its important to note that some developers have decided to build a progressive web application instead of a mobile app.
We bring to you the reasons why some developers opt for PWA application development instead of native app development. We will throw some light on the reasons and break down the logic in the below points:
#1: Mobile apps need to progress:
Mobile applications give a less interactive and less friendly interface in comparison to the web apps, undoubtedly. But, the web views won't be preferred once the PWAs are here. It includes all the things that any user will love about the native apps. Everything right from app shell, offline access, a navigation bar, and every means of convenience for the user is being provided by the progressive web app.
Also, if you think mobile apps offer the ease to browse an online store, you should try PWA apps. They offer more convenience and ease of making an online purchase without having to leave the browser. There are many applications that have decided not to go on the route of the native app and create a PWA app that will beat mobile experience.
So, this was the first and very clear benefit of building a PWA.
#2: PWA encourages ranking:
In the era of making your page/website rank, progressive web apps bring this added benefit for companies. Below are the reasons to be overjoyed:
The app will generate real benefits out of the efforts that you are putting to rank your website. If you're already doing this for your website, this should be easy.
Generally, the app can get lost in the midst of a million more similar applications. You no longer have to worry about this thing.
The PWA offers numerous benefits to you if you hate the fiction of going to the app store and click on "Download the App".
Generally, if you have a question? Want something? Looking for a nearby store? You Google it, right? Now, if your website or app provides answers to all those questions, why would you want it hidden in app stores. PWA allows you to place your app directly in the search results and get the users instant answers that they require.
#3: PWAs helps in revenue generation:
In the case of native app development, a lot of money can flow out of your pocket and go into the pocket of app store owners. Sometimes you are spending on the design tweaks, sometimes on development updates and on promotional advertising at times. But, does that seem right to pay money to the store owner in order to gain visibility?
Obviously, not!
PWAs don't have any big fee attached to it. That means, all the money that is generated from the application goes straight in your pocket. You don't have to pay for the app store for better visibility and more hits.
Add to it, progressive web apps are easier to build than native apps. Managing them after launch requires less time, commitment, and resources from you. It surely requires timely upgrades and maintenance, but you don't have to deal with the obstacles that come with applications in the app store.
When it is about updates, the process is hustle free. Unlike mobile apps or native apps, you don't have to push in the updates and wait for the approval from the app store admin. Simply implement the updates and it will show up immediately in live PWA.
Who wouldn't love to hop on the app that generates good revenue, incorporate updates, and remain competitive among other apps?
#4: Unlike Native Apps, retention is easy with PWAs:
Many-a-times, a native app will attract downloads due to its problem-solving nature and good user experience. But, most of the native apps fail when it comes to the retention of users.
So, it doesn't matter how many initial downloads you get. If the users don't return, engage with the content, or make purchases on the app, the investment is pure waste. On the other hand, PWAs doesn't require any commitment. The objective of PWAs is to lend a convenient experience without taking place on the phone.
As an example, a health-tracker app is something people want to use on a daily basis. A native app will require going to the app store, downloading it, and extraction of battery for it to be functioning. However, a PWA will neither chew your data nor bring down the battery level.
Having a greater set of benefits, it is recommended that PWAs should be considered by every business.
Conclusively,
Based on the response of online media, friends, and colleagues, We do believe that the future is PWA.
Since visibility and searchability are known problems of native web apps, there are many native web app developers who are in favor of putting a small and medium-sized business into a progressive web form. The major players have already moved towards the PWA application development, and others are still trying to figure out the benefits of one over the other.
In the future, PWA applications will continue to grow due to the user-friendly interface and better Google ranking. Though both have their own set of strengths and weaknesses but the choice should be made based on your project goals and motives.
If you're looking for any of them for your next project, connect with our team of Developers to see your project in action.